Greetings! it is our super Hidden Side Wiki staff presenting you the Hidden Side Wiki Newsletter! Here you will find out news about Hidden Side, new pages on the Wiki, and design changes. If you would like to get weekly newsletters, please click the follow button located on your toolbar. See here for archived newsletters from 2019.
February 22, 2021
I know it's been a while since the last newsletter, and there is a lot to catch up on. Firstly, the app has had many updates since then.
Now, we move on to the wiki's updates.
It's been a while since I've been here and I'm still exploring, if I find any updates that haven't been mentioned in this newsletter, it will be updated to include them.
September 7
Greetings, and happy 1-year anniversary to the Hidden Side Wiki! On September 6th, I reached out to some staff members around during the wiki's first days, but not all of them responded. Here is what those who responded had to say about the wiki turning 1.
It has been a while since the last newsletter, but now we have someone to write it. A lot of stuff has happened to both the wiki and the theme over the summer, so let's get started. First, we will get some wiki news out of the way.
Now, for the news about the theme. There were a lot of rumors going around this summer about Wave 3 being the last wave of the Hidden Side theme. This caused mixed reactions throughout the wiki. LEGO Customer Services has claimed that the rumors are false (they were very vague in saying so), but as staff, we are uncertain of what will happen in the future of the theme. We all hope for the best.
Wave 3 has also been released in the U.S., becoming available on LEGO.com and other online retailers back on August 24th.
The app has also had some major updates since June, along with the introduction of Summer Capsules, Missions, and a lot of new ghosts!
The wiki is also preparing for the Main Event, the LEGO Hidden Side Halloween Special, set to release later this year.
June 18
Hello! It has been a while since the last newsletter, as we still don't have anyone in particular to write it.
Anyways, first, the Hidden Side Wiki and the other Fandom Brick Communities are hosting a building contest Check it out here. There is a $15 LEGO.com gift card prize for building a minifigure habitat.
This is also probably old news but about a month ago, Limefong has retired from admin leaving only 2 active admins.
Finally, the Wave 3 sets for LEGO Hidden Side are going to be delayed in the U.S., releasing around August while it had already released June 1st almost everywhere.
April 29
Hello everyone, the month is about to end and we have some announcements.
Firstly, Printer89 has announced his retirement from the wiki, thus will no longer be writing the newsletters.
The images of the wave 3 sets have been revealed, with minifigures of Vaughn G. Jackson and some new unknown characters.
Finally, an awesome poster has been revealed! Also it seems that season 2 will only have 9 episodes as said on Tommy's twitter. However there will be more to come later this year.
April 17
Greetings! We have one huge important announcement as the second season of LEGO Hidden Side is about to end.
On April 15, we have decided to suspend the ability for users to request for rights. This is mainly due to the fact that we have three bureaucrats, two admins on staff which pretty much takes care of a lot of roles.
April 1
Hello everyone. It's been a while since this newsletter was update, but we will try to cover as much as we can.
Firstly, Diplomacy warlord has unfortunately left as he was originally a Rollback. Hopefully he can return shortly.
While the next three episodes of Season 2 has been confirmed, there has been no word of when they will released. Hopefully, they can be released soon.
Finally, the latest Editor of the Month ended in a tie between KookaburraSong and Holomaster15. There is currently a tiebreaker in place which will last until April 2 at 23:59.
March 7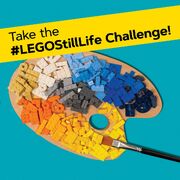 Welcome to the first week of March. Some quick notices for the future.
First of all, we would like to welcome Gamerboi17 and Diplomacy warlord to the staff. Diplomacy warlord is now a Rollback while Gamerboi17 was recently a Content and Discussion Moderator before becoming an Admin.
Also on Brickipedia, they are hosting a #legostilllife challenge. You can find more information here.
February 29
Happy last day of February! A couple of announcements as we head into March.
Starting tomorrow, users will have a chance to request for rights. As said earlier, please make that you meet the prerequisites before applying. We already have some early requests from Gamerboi17 and Diplomacy warlord. If you want to vote, you can click on their usernames.
February 15
Hope everyone is doing well. Just a couple of announcements in what's been an action-packed week.
We have agreed with Fandom LEGO Community to merge our Discord with theirs. Fandom LEGO Community also hosts other communities such as the Ninjago Wiki, LEGO Friends Wiki, and many others. By merging with them, we allow users to explore other communities and users who are not familiar with LEGO Hidden Side to come learn about the new theme.
Beginning in March, we will also allow users to gain positions here. Make sure to read the preconditions before applying. Also, please do not fill out a request until March!
Finally, happy birthday to Holomaster15. Make sure to stop by and also wish him a happy birthday!
February 1
Hey everyone! It looks like the hiatus is now over as "Carnival of Doom" has been released on LEGO.com. Make sure to check out the first episode of Season 2.
In addition, the third wave of LEGO Hidden Side sets have been leaked out and plan to be released in the summer. Here are the following sets to keep an eye out for.
Finally, we would like to welcome back Gamerboi17 to the staff. He was with the Hidden Side Wiki in its opening stages before retiring in December. After two months off, he's now back.
Not to mention, congrats to TheLoner for winning January's Editor of the Month.
January 11
Hello everyone. For those who have been following along, we are currently in a small hiatus as we likely transition into Season 2 (however this has not been confirmed). You may be wondering why LEGO hasn't released any episodes in the past couple of weeks and as a staff, we too are uncertain.
On January 9, "Carnival of Doom" and "Flying Lessons" were released, but they were quickly restricted to people only living in Hong Kong.
With so many questions and very few answers, please continue to be patient as we hope LEGO Hidden Side can get back on track.
January 1
Welcome to the first newsletter of 2020! We have been through a lot since the formation of the wiki back on September 7, 2019 and from that point on, the wiki has progress very well. Just a couple of announcements as we kick off 2020.